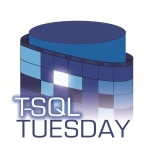 Influence Somebody
Ahh, December. What a wonderful time. Snow all around (many along the eastern seaboard of the United States were hit Sunday by a snowstorm… I had 7″ of that wonderful white flakey stuff myself). There's a holiday for everyone, whether it's Christmas, Hanukkah, Kwanzaa, Boxing Day, or something else. Offices are throwing parties trying to show their employees how grateful they are. Sales galore as all the retailers try to entice you to spend all of next years money now…
Hold on, let me see what this Outlook notification is all about…
Well, would you look at that! Today is the second Tuesday of December – which means that it's time for a T-SQL Tuesday post. For those that don't know, T-SQL Tuesday was created by Adam Machanic (b|l|t) 108 months ago (December 2009), for the purpose of strengthening the SQL Server blogging community. T-SQL Tuesday gets bloggers posting about a specific theme, chosen by the host blogger. All we have to do is blog about that theme… today.
The host this month is Jason Brimhall (b|l|t). The chosen topic is a twist on one we've seen before… he wants to know
What have you done to impact somebody else in the last 13 months? How do you know you have impacted them? This is really the hard question. I want stories of how you impacted somebody else for the better.
Notice that this in not strictly SQL Server related.
Well, as it turns out, I've recently talked with two different people and they have talked to me about how I've impacted them.
Person #1
I first encountered this person when I started doing presentations for SQL Saturdays. I'm not sure why we clicked, but we did. We would sit around and chat with each other at every event where we ran into each other. We talked about problems, goals, family, heck, just about everything. And we shared advice with each other. This person revealed to me in a recent conversation just how much that meant. Unbeknownst to me, this person had gone through a really low time when we had connected, and my talking things out (and my advice) helped them through this time. Wow. I mean.. WOW. What can you say about this?
Person #2
Many years ago, when I was in a j-o-b that afforded me a lot of time (after I automated all of the routine checks), I would spend most of my day answering forum posts at SQL Server Central. In the evenings, I was working with a local business owner doing some SQL Server and application programming. This side job presented a challenge to me that I needed someone to help me with. So I reached out to a few of the other people who I had observed also answering forum posts, and ended up working with one of them, and become a fast friend.
Fast forward over a decade to a recent conversation. This person revealed to me that my reaching out way back then inspired this person to do many things: becoming a consultant, pursuing the Microsoft Certified Master (MCM) certification, and most recently becoming a business owner. Knowing this person, at best I merely accelerated these accomplishments. However, having influenced (even accelerated) these, again I'm awestruck.
Summary
Small actions. That's all it takes to make a positive difference in a person's life. Be interested, and encouraging. You never know what kind of effect you are truly having on people. And when you do find out, prepare to be astonished.